White Oak Stables
Turkey Hunt
11.18.2014 posted by
Jade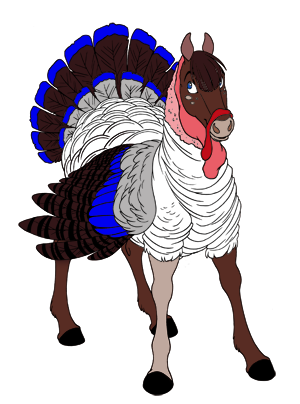 The hunt begins in 2 more days! Just a reminder that no horses (or turkeys) will be hurt during this event. When you see a picture of Stooge dressed in his turkey suit remember what color his feathers are and then click on him. Select the color of his feathers from the next page and you'll win a prize if you guess correctly. Stooge will appear in a new place every hour so make sure you keep looking from the 20th until the 25th. Happy Hunting!
NaNoRiMo Reminder
There are only 12 days left in November. So if you're behind on your word count you better take this weekend to spend some time catching up! Only novels that are 50,000 words or longer will be eligible to compete in the Publish My Book Contest.
Upcoming Events
11.10.2014 posted by
Jade
Back Up Your Story Day: November 10th

Keep writing your NaNoRiMo stories but take a few minutes to back up a copy! You don't want to loose all of your hard work so far. If you complete your 50,000 words you'll be entered to win a published copy of your book. Need some ideas, help with character names or location themes? Try out some of the helpful generators on Seventh Sanctum.
Annual Turkey Hunt: November 20th - 25th

Login every day and look for Stooge in his turkey suit. Remember what color his feathers are and then click on him and pick the color of his feathers to claim your prize. He will appear in a new location every hour so keep your eyes open for him.
Server Change: December Something-or-Other

So I have rented a few cloud servers and done some testing and everything we use for our games appears to be running and working properly. That means we're good to start moving to these new servers. I posted about cloud servers briefly before on one of our message boards -- they will allow us to move each game onto their own server which should mean all of our games run much faster. I know I talked before about adding a 13+ age restriction on the english register forums with these new cloud servers but I've found a way that this won't be necessary.